Board of Directors
John Muecke
Chairman of the board
John became our Chairman of the Board in 2021. He and his wife Michelle have lived in Wyoming since 1976, moving to Sheridan with their three daughters in 2004. John retired there from Security State Bank as the Senior Vice President of Lending. He has had many distinguished public service engagements, bringing a wealth of knowledge and experience to VOA. John and Michelle share a deep faith in Jesus as Lord and Savior, and John spends time with clients here at VOA to walk alongside them on a faithful path.
Gabe Lapito
vice chair
Gabe joined the Volunteers of America Northern Rockies Board in 2018. As an accountant, financial planner, and investment advisor, Gabe brings strong fiscal sense to his position on the board. Gabe chose his career in retirement financial planning because he really cares about people and helping them live out their retirement years financially secure. As a lifelong resident of Billings, Montana, he is passionate about giving back to his community and improving the lives of his neighbors. Gabe and his wife Brandi prioritize their faith as they raise three children.
Brandon Swain
Secretary
Brandon was Chairman of the Board for Peak Wellness Center from 2016 to 2021 before generously agreeing to join our Board of Directors when the two organizations merged. He has lived in Cheyenne, Wyoming since 1996, where he has found success as a realtor. With his experiences as a leader within Peak Wellness Center and the Cheyenne community, Brandon brings valuable insight to the board. He has a daughter and a son whom he enjoys spending his time with.
Robert Morcom
Treasurer
Bob joined the VOA board in 2020. With over 30 years of service as a civil engineer, department head, principal, and corporate board member, he now finds himself giving back to the Rapid City community in his retirement while remaining active in his professional pursuits. In his spare time, Bob is a district leader with the Boy Scouts, an active member of his church board, an instructor of and certifier for ski instructors, and a devoted husband to his wife Cathy.
Sue Osborn
joined 2018
Sue and her husband Casey founded EMIT Technologies in 2000 to provide the natural gas industry with environmental solutions for air quality regulatory issues. Along with her experience in the oil and gas industry, Sue has extensive experience in the non-profit sector, and is dedicated to improving our region. Faith is a priority for Sue and her family as they seek to leave a legacy of servant leadership and generosity in the Sheridan Community. Sue and her husband have been married 42 years with three children and six grandchildren.
Cliff Root
joined 2019
Cliff joined the Board of Directors in 2019, upon retiring from a successful and vibrant career in 2015. He is a Veteran of the Vietnam War, and a successful entrepreneur and businessman. His personal experience with chemical dependency, alcoholism, and PTSD inspired him to empower others with his testimony, which ultimately led him to connect with Volunteers of America and the clients we serve. Cliff has been married to his wife, Marisa, for 35 years. Together, they have four children and eight grandchildren.
Margaret Prahl
joined 2019
Margaret resides in Custer, SD and has practiced general law for more than 40 years. She is a generous supporter of those around her and has served on many boards over the course of her career. A significant portion of Margaret's board service was dedicated to the Siouxland Community Blood Bank where she was a founder and 30-year board member. Margaret fills her free time with gardening, gourmet cooking, pottery-making and travel. Margaret is married to Charles Thomas Patterson and together they have three children.
JT Craft
Joined 2020
JT and his wife Elizabeth are very involved with the Sheridan community. While raising three sons, they work together at Ebia Hearing & Sound, a family-owned business founded by Elizabeth's father, and are actively involved with their church and several non-profits throughout the community. JT is a talented musician who performs with with his family band, The Craft Brothers, and brings music to ministry with his wife. They are both Constituent Members of our ministry, volunteering regularly to lead worship at chapel services.
Jennifer Anderson
Joined 2021
Jennifer retired in 2017 from Laramie County Community College where she served as the Director of the Nursing Program. She served on the board at Peak Wellness Center for eight years, graciously deciding to join the VOA board when the two organizations merged in 2021. Jennifer and her husband Stephen have lived in Cheyenne for 22 years and have three children. She is an active member of Cheyenne Hills Church and loves to travel, read, refinish furniture, and spend time with her grandkids.
Brittany Winges
JOINED 2022
Brittany is a third generation Wyoming native. She started her career in banking in 1992, and found her passion in mortgage lending in 1995. Brittany has a passion for servant leadership, and has served on several boards across the state. She is a graduate of Leadership Cheyenne, and believes strongly in supporting small local business and organizations. Brittany's biggest pride is her family. She and her husband, Jason have been married for almost 30 years. They have a 26-year-old son, Hayden, and a 10-year-old daughter, Brooklyn. In her free time, Brittany enjoys reading, traveling, scrapbooking, cooking and spending time with her family and friends.
Brent Miller
Joined 2022
Brent grew up on a ranch & farm in Southwestern Wyoming. He remains involved in the family ranching & farming operation. Since graduating from the University of Wyoming with a BS in Business, Brent has had a successful banking career, becoming the CEO of Security State Bank in 2015. Brent has a passion for community, and has served on the boards of many charitable organizations in Wyoming. He and his wife, Judith, have been married for 29 years and have two grown children. In his spare time, Brent likes being outdoors, running & hiking, spending time with family, and growing in his faith.
Robert Byrd
joined 2022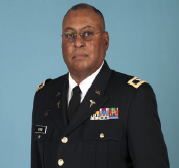 Dr. Robert Byrd holds a Doctorate in Dental Surgery from Meharry Medical College. His skills were put to good use when he joined the military, serving for 25 years before retiring as a Colonel. Dr. Robert Byrd was Chief Clinical Director/Instructor for Northern Wyoming Community College Dental Hygiene Program. He is trained and a certified instructor through the Wyoming Peace Officers Standard and training commission in Forensic Medicine and Dentistry.
Robert has been married to his wife, Lori, for 11 years and has two step children – Danielle & Josh.
Matthew Leibrich
JOINED 2022
Matthew Leibrich is the Assistant Controller and Office Manager at Ken Garff of Cheyenne. He has been with the company since 2015. He graduated the University of Wyoming with a BS in Accounting and Finance in 2011, and became a CPA in 2014. Matthew moved to Cheyenne in 2015 and has been an active member of the community ever since. He has served on the Board of Rotaract in Cheyenne for three years and was board president from 2020-2021. Matthew is marrying the love of his life in June 2022. He's adding two bonus children to his life and could not be happier.
Jeff Holsinger
Chief Executive officer
Jeff joined the organization in August 2001. Under his leadership, VOANR has grown from a revenue base of one million dollars to one that today exceeds $40 Million in services. His professional passion is building organizations through empowered leadership that embraces a social entrepreneurial spirit through the passionate delivery of human services. Personal interests are spending time with family and enjoying out of doors activities such as bird hunting and fishing.